This post is probably the longest one I've ever posted. I realized about a quarter of the way through that I should've broken it into sections - but at that point I was too far into it to do so. So read it in sections if you'd like!
The entire reason we went to England was for a wedding on the 19th. One of Ian's family friends, who made it to our wedding, was getting married about 20 minutes outside of London. And since it was at Christmas time, it was the perfect excuse to stay and see all of Ian's family.
All around, the flights were not the best. Not to the airline's fault. We took an overnight flight to London Heathrow and I assumed I would sleep most of it. But I woke up after about 3 hours of sleeping to the sound of someone vomiting. Two people away from me (in my row, but with an aisle separating us), a girl proceeded to vomit the remainder of the flight - for 4 more hours. With my germaphobic tendancies, I was more than a little paranoid and couldn't relax enough to fall back to sleep. Then, the girl who was throwing up, her mother had a stroke sometime during the flight. Then they were wheeling her up the aisle in a weird wheelchair, and the flight attendants were racing around and talking to the captain. Finally, we landed. I was thrilled to be on the ground safely and getting out of the germ infested cabin.
We got the rental car and headed to Ian's Nan's house (paternal grandmother). On the way back from our honeymoon when we got stuck in London, we had stayed with this Nan for one night.
We sat around and caught up then headed into the little town to walk around and grab dinner - fish and chips. I have to admit, with all the hype I hear about England's fish and chips - I was not a big fan. The fish itself, without the batter, tasted fine, but my sensitive stomach certainly does not handle the grease well. So I opted for chicken and was happy with my choice. But the one thing I love about England, is the second you land, suddenly tea becomes the drink of choice whenever you enter someone's house. Tea - with milk. I can't drink regular tea without it. If you haven't tried it - please do.
The next morning, Ian's brother and his girlfriend arrived. We all showered and got ready to head to Kings Langley for the wedding.
They invited everyone over to the pub across the street from the church before the wedding. It was FREEZING. Surprisingly for England, they had gotten a dumping of snow (read: a few inches) right before our arrival. England is a country that doesn't get enough snow to understand how to deal with it. They don't really salt the roads, plow, or shovel anything. So it makes one frozen mess. We saw several people slip and fall during our 9 days there. At the bar, I realized just how unprepared people are for the cold weather. Many of the ladies about my age were wearing mini skirts and open toed heels. They were huddled in corners shivering. I was happy I was wearing some tights, even if my outfit didn't look at cute as theirs. Even with my tights and coat on, I ventured towards the fires to get warm before walking to the church. We also were able to get some photos of the wedding party beforehand.
Also at the bar, I realized that another piece of clothing that England women wear for weddings is new to me: they wear enormous head pieces and hats. I mean, enormous! I kind of wish I had known so I could take part in this funny tradition. I could totally have rocked a big head piece.
The church was absolutely adorable. It is a church that was built hundreds of years ago. And with the recent snowfall, the church looked even more beautiful. While the bride must've been freezing, the happy couple looked beautiful in such a setting. Here are some pictures of the church, and pictures before and after the ceremony (couldn't take any during the ceremony).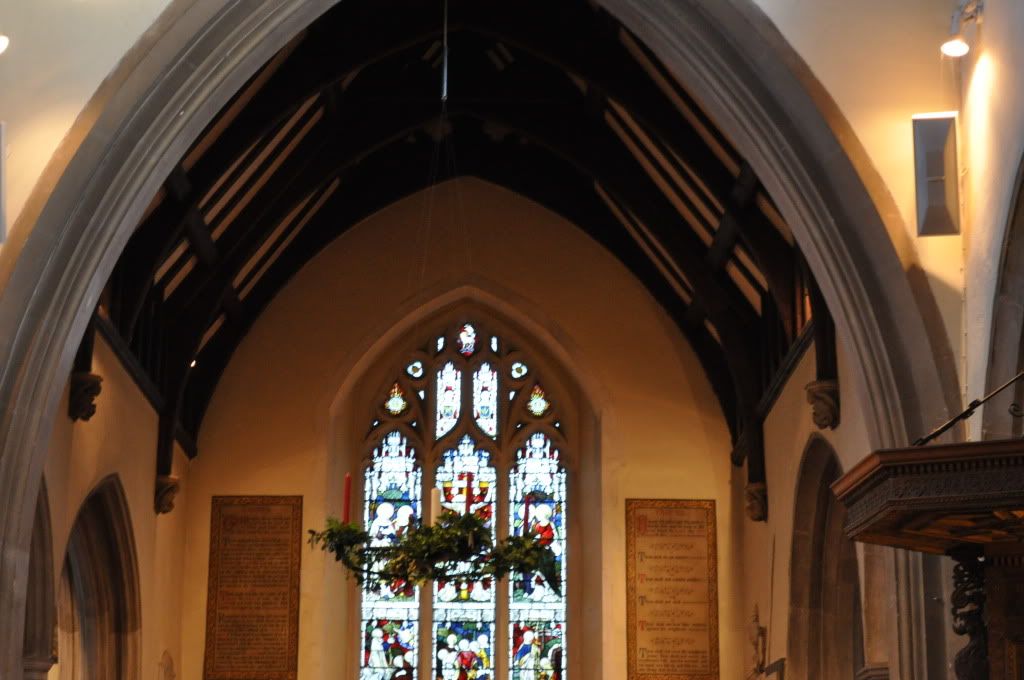 Then, we were off to the reception. Here are pictures of the rest of the evening. And take note of the big head pieces/hats.
The lobby of the hotel:
And even at a formal wedding, everyone still wears their hats from their Christmas crackers:
The happy couple:
It was blistery cold, windy, and snowing/sleeting for our sightseeing day. So we took the bus tour for about 1.5 hours and then decided that since we'd both done the sightseeing thing before, and we really were just doing this for the pictures (and weren't getting good ones), so we got off the bus and made our way back to our hotel. On our way, we found an adorable french cafe and popped in for some tea and soup to warm up. I was so exhausted from all the traveling that I decided it was time to crawl into the huge king size bed and take a nap while Ian went to check out Oxford Street where all the stores are. He said it was good I didn't go with him and to just imagine NY streets during Christmas time, but multiply the number of people by 10. Ugh - with my claustrophobia, I'm glad I was getting a little snooze. We headed out to dinner at an adorable nearby italian restaurant. We walked around a bit afterwards and then called it a night. Pictures from our day/night in London:
The next morning, we took a 3 hour train ride to Welshpool, Wales to meet back up with the family at his Nan's house (mom's mom). The train ride showed off some of the beautiful countryside and Ian ate one of the many chocolate croissants he ate while in England. Oh and we opted for first class on the train to assure we had comfy seats - it was only about $10 more per person and it was totally worth it. We had service like you would in first class on a plane - free booze, lunch, coffee/tea, snacks, dessert. I would highly recommend doing this if you're traveling by train in England! We stayed for 2 nights at a cute bed and breakfast about a 1 minute walk from his Nan's house. B&B seemed liked a haunted house, but was charming in its own way. We did some shopping, ordered Indian takeout for dinner (it was amazing - Indian food from England certainly lived up to its reputation), and celebrated an early Christmas celebration.
His Nan's little house with the green door:
Went to the church/graveyard where some of Ian's Mom's family is buried.
And kind of a running joke throughout our trip was doing the peace sign. Except in England, putting your fingers outwards in the peace sign means F-you. If the inside of your fingers face towards yourself when you make the peace sign, only then does it mean Peace. Like here, I am saying F-you.
Then, we drove 5 hours to our final stay, to Ian's uncle and aunt's house. I finally got to meet his cousins, who hadn't seen Ian since he was about 15 (and two of the cousins were just about 2 and 4 years old and have no memory of him except pictures). 12 of us stayed there. It was packed to say the least. Then you add in their 4 cats and it was a madhouse. Unfortunately, my asthma spun out of control because of the cats, so I spent lots of time just trying to breathe and take breaks outside in the freezing cold to try to clear my lungs. We celebrated Christmas there and ate lots of great food. One funny story: during Christmas dinner, Ian's brother noticed that one of the cats had left something beside his chair: the head of a mouse. The body had already been eaten by one of the cats. Yummy!
The mouse head:
We had a busy trip and while we were happy to catch up with his family, it was exhausting and not a trip we'd likely repeat. Next time, we'll have to not plan on being 6 different places in 9 days. And at the end of the trip, we were thrilled to be home. There really is no place like home.